Beauty and the Beast 25th Anniversary Celebratory Screening
Beauty and the Beast" Returns To Alice Tully Hall For A 25th Anniversary Celebratory Screening
Twenty five years ago my life changed forever. Disney's Beauty and the Beast was released by Disney Pictures and I loved it immediately. The enchanted castle and rose had me from the first moment I laid eyes on them. It has always been my favorite Disney movie. Throughout the years our family has sang the songs, quoted the movie lines and watched it far to many times to even count. Since my children are all eight years apart, I have been watching this movie from the release until the present, with no complaints. So when our family was invited to the Beauty and the Beast 25th Anniversary Celebratory Screening in Alice Tully Hall, NYC I was beyond elated.
The thought of being in the exact location where in September 1991, that a work-in-progress version of "Beauty and the Beast" was first screened at the New York Film Festival -- and received a standing ovation was almost too much for me to process. This "tale as old as time" went on to break ground as the first animated feature film to receive an Academy Award® nomination, and twenty-five years later audiences of all ages continue to fall in love with this enchanting tale, its captivating characters and unforgettable, award-winning music score and original song, "Beauty and the Beast."
As part of the celebration of the 25th anniversary of "Beauty and the Beast," The Walt Disney Studios and the Film Society of Lincoln Center are presented an exclusive screening of the beloved animated classic. In addition to the screening I was invited to meet privately with Robby Benson (voice of Beast), Paige O'Hara (voice of Belle) and Angela Lansbury (voice of Mrs. Potts) and Richard White (voice of Gaston), Don Hahn (Producer). P-I-N-C-H Meeeeee! Am I dreaming as I write this. This is something I could not have imagined in my wildest dreams would have ever happened. So, an intimate group of blogging friends sat down with the original cast and chatted- yes chatted. It was like going out for coffee with some old friends. Paige O'Hara shared her feelings on being Belle and we all congratulated Robby Benson on his upcoming real life role of becoming a grandpa. Richard White reminisced about holding his child on his lap at the age of four and then six and what it was like to be both a dad and Gaston at the same time. Our magical roundtable ended with the iconic Angela Lansbury gracing us with her absolute beauty and greetings.
Our day did not end there, it was just beginning. We headed upstairs where I reunited with my family and headed into the event. As true Disney magic ensued- while red carpet interviews and lights flashed we were able to visit with Disney's Belle and the Beast. It was like a dream come true but the best was yet to come and I did not even know it. As my daughter twilled with Belle and The Beast bowed, I proudly stood and snapped pic after pic of in my own mind what I was categorize as a perfect moment in life. I'm proud to say that I have passed my love of Beauty and the Beast to everyone in my family, especially my little princess. At that moment I had to hold back the tears of pure emotion and happiness that were about to flow. Twenty five years of Beauty and the Beast is a long time. Since my oldest son is twenty five, my middle seventeen and my daughter is nine. The movie represents the last twenty five years of being a Mom.
As we entered the grandness of the Alice Tully Hall For A 25th Anniversary Celebratory Screening I felt incredibly honored to be there and in the presence of such wonderful Disney history. As the panel was introduced and each gave their thoughts on the movie and shared a piece of their heart, I knew watching the movie was going to be a roller coaster for me. I couldn't help but think back of my oldest son being the Beast and giving mommy a rose, my middle son being Gaston and strapping on some handmade tissue muscles under his shirt as a four year old and me always referring to him as Chip and telling him, "I'll tell you when your older". Then finally my daughter (who came along much later in life), my little Belle. The thoughts spun through my head of her wearing her gorgeous Belle gown and twirling though the house, dancing with my husband to Tale as Old as Time over and over again. I realized just how much more than a movie Beauty and the Beast was to me. It's a movie that will live forever in my heart and I'm sure the heart of my family. Thank you Disney for this amazing movie.
We watched the screening, which was incredible to see on the big screen. Of course my daughter made her way over to my husband when her favorite song came on so she could snuggle up. My seventeen year old son turned and looked at me when Mrs. Potts and Chip were on the screen. The movie ended and the crowd cheered and cheered. But that was not the end. We were told there was a big surprise at the end of the movie. I thought it was going to be a clip from the upcoming live action, Be Our Guest. It was not. It was much bigger and something I personally never expected. Alan Menken entertained the audience with song after song from Disney movie after movie. It was like a dream come true. Then one of the most amazing moments of my life happened. Angela Landsbury lead out to the stage by Belle and the Beast stood front and center stage and you could hear a pin drop as she began to sing one of the most loved Disney songs of all times, Beauty and the Beast. To say there were tears would be an understatement. Anyone who ever loved the movie was overwhelmed by emotion at that moment. It's a moment I will remember the rest of my life. My hope for my family is that the Disney magic lives on forever and ever in our family.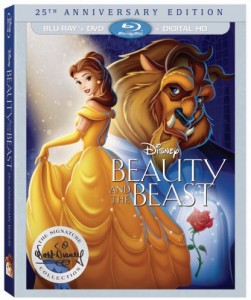 Walt Disney Pictures' magical animated classic "Beauty and the Beast" captures the magical journey of Belle (voice of Paige O'Hara), an independent and intelligent, modern-day heroine who's taken prisoner by a hideous beast (voice of Robby Benson) in his castle. Despite her precarious situation, Belle befriends the castle's enchanted staff—a teapot, a candelabra and a mantel clock, among others—and ultimately learns to see beneath the Beast's exterior to discover the heart and soul of a prince. In honor of the film's 25th anniversary, this tale as old as time joins the Walt Disney Signature Collection on Digital HD and Disney Movies Anywhere, on Blu-ray™ and DVD. We are thrilled to partner with Disney Pictures on a Disney Beauty and the Beast GIVEAWAY. Click here.
Disclosure: Diane Sullivan/3decades3kids is a Disney Pictures blog partner. All opinions are that of Diane Sullivan and do not reflect the opinions of the parent company represented. This opp was by invitation only. No compensation was provided for this post. A complimentary code and giveaway code were provided for the purpose of this post. Contact me at Diane@3decades3kids.net and @3decades3kids across all social media platforms. Snapchat us at: ThreeDecades.