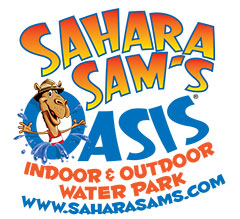 This past weekend, my family and I visit Sahara Sam's Oasis in West Berlin, NJ for the very first time. Sahara Sam's, open since 2009, is NJ's first free-standing, indoor water park. They're open for indoor fun all year round, and they're scheduled to open an outdoor water park at the end of this month too!
The indoor park is packed full of the usual attractions, such as pools, slides, and a lazy river, and they also have an obstacle course and indoor surfing simulator! My kids are still very small, so we spent most of our time at two of their attractions: Tim-Buk-Tu and Lizard Lagoon.
Tim-Buk-Tu is a big tree house village that sits in the center of all the activity. Tree houses, slides, and water spraying from all sorts of things that can spray water are what you'll find here. I was the victim of an unexpected water onslaught more than once. Luckily, the water was warm!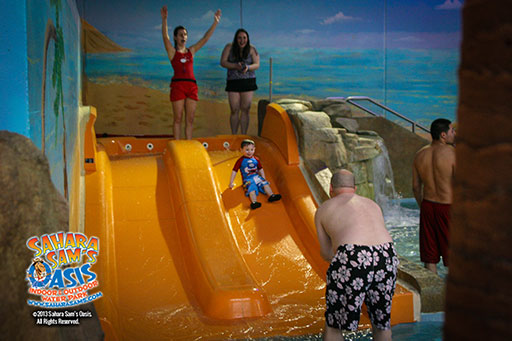 Lizard Lagoon is a little area off in the corner that is designed just for toddlers. It's basically a baby pool with some slides, swings (baby bungees!), and yet more things that spray water. Oh, and a waterfall! It really is a little area, but my kids were perfectly happy there. They have their own lifeguard there who keeps watches over all the little ones too. She's not a babysitter, but she does make sure everyone is following the rules.
At Sahara Sam's, there's plenty of fun to be had by kids of all ages, and my family definitely enjoyed themselves. There were, however, a few negatives. First, the customer service left something to be desired. There are few things that irritate me more than when a cashier can't be bothered to say hello or thank you, smile, or even make eye contact. Another issue was that you need to get a locker if you want to store your belongings while you're off splashing around, but when we got there, all of the large lockers were sold out. There were several empty ones that I saw, but they were broken and, therefore, unusable. There were four of us, and all of our things were not fitting in a small locker, and I can't say I was thrilled about shelling out $10.70 for two small lockers. Maybe I'm cheap, but that doesn't sound like a good deal to me. Also, the bathrooms were icy cold–not a great feeling when you're all wet.
On the plus side, life vests are available for free, which I thought was a very nice. The facilities were very clean too. And did I mention they have a huge arcade?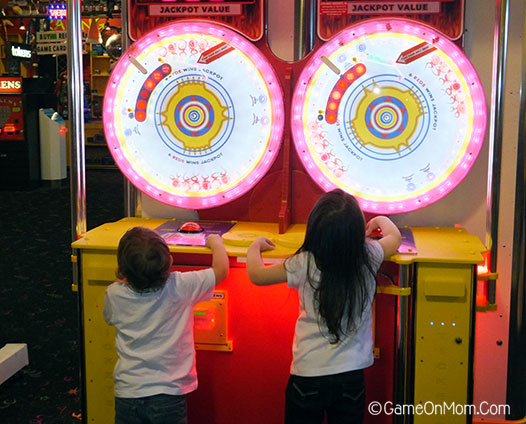 Would I return to Sahara Sam's? Yes. I don't think I've ever seen my children have so much fun, and they've haven't stopped talking about it since we left. There is really quite a lot to keep a family entertained, and it can only get better once the outdoor water park opens. Annual passes are available for just $59.95, and when you consider that the indoor water park is open year round, that's a nice value that's hard to pass up. So we will definitely be back. Maybe next time I'll have a chance to sneak off to their adults only "warming tub" and then the lounge for a fancy cocktail.☺
Sahara Sam's is having a giveaway! Enter here, and you could win one of TWO family four packs of tickets to Sahara Sam's Oasis Indoor and Outdoor Water Park!